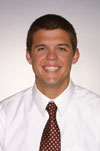 David joined Percival Land & Timber Consultants, Inc. and the LandsOfTheCarolinas.com team in the spring of 2012. Having grown up in rural southeastern North Carolina, he has a great deal of knowledge of crops, soils and irrigation as it relates to farmland and timberland, as well as potential issues that may arise on properties such as wetland and drainage issues.
This knowledge allows him to give clients and investors greater insight on the highest and best uses for properties in order to maximize a greater rate of return on investment and help mitigate any potential risk. Ways his firm's clients have been able to maximize their ROI include selling and leasing portions of their properties for solar and wind development, arranging sale lease-back arrangements with REITs and consulting on the conversion of timberlands into farmland.
Although being a licensed realtor in only North Carolina, he has served as a consultant for farmland and timberland properties in other states, such as South Carolina, Virginia, Georgia and Kentucky. Prior to joining Percival Land & Timber Consultants, David worked in the collegiate media relations industry for several universities across North Carolina.
He graduated from North Carolina State University in 2007 with a B.S. in Parks, Recreation and Tourism Management, along with a minor in Business Management. He currently resides in Wilmington, NC.
–  Licensed Real Estate Broker, State of North Carolina since 2014
–  BS North Carolina  State University – Parks, Recreation and Tourism Management, 2007
–  Member, REALTORS Land Institute